Hospitals Get a Helping Hand
Back to Blog(s)
April 25, 2023
Improving Efficiency, Operations, and EVS Through Robotics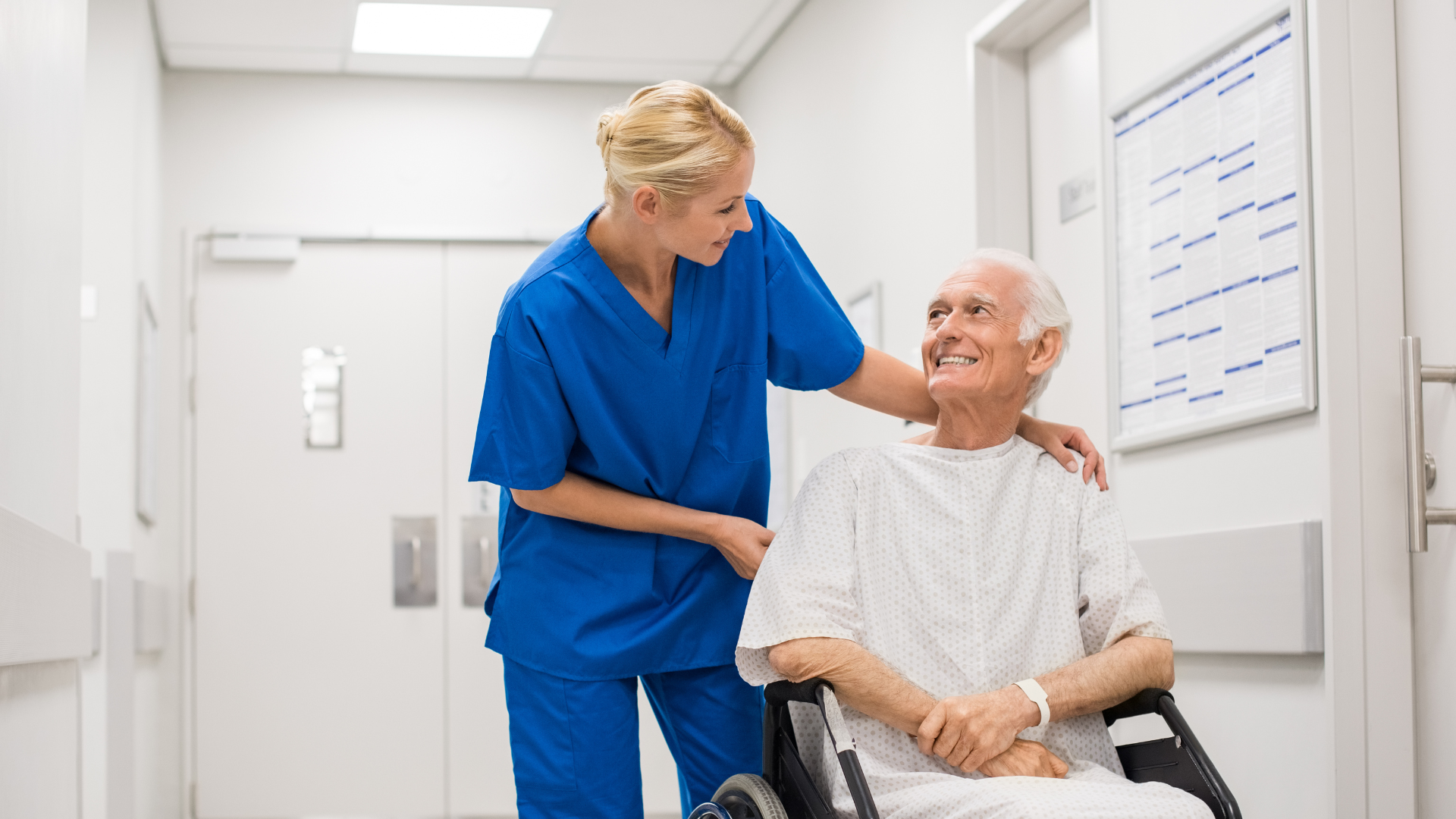 Healthcare professionals and hospital administrators have always had incredibly demanding jobs. Caring for the large and aging Baby Boomer generation, ensuring appropriate staffing ratios, and maintaining impeccable care and EVS standards has always been something of a whirlwind circus. Then the pandemic came, and what was once a tight-wire act turned into an unsustainable freefall.
Post-pandemic, hospitals and healthcare facilities face two challenges that are ripe to be addressed by recent innovations in autonomous robotic technology. Not only are sophisticated medical robots now assisting with and performing certain surgeries; today, hospitals can benefit from robotic assistance at the facilities, operations, and staffing level. Here's how.
EVS and Infection Control
Disinfection
One of the most powerful use cases for autonomous robots within the healthcare setting is EVS and infection control. Let's look at infection control first. Hospitals represent an extremely unique environment in that the ill, injured, healthy and immunocompromised are all housed for varying lengths of time within one facility. Though rigorous infection control protocols are both standard and essential for every hospital, hospital-acquired infections remain a lurking threat, particularly for the elderly and immunocompromised. And as Covid showed us, these infection threats aren't always bacterial. Preventing the spread of airborne viruses and other pathogens within a healthcare setting has become more important than ever.
Autonomous robotic disinfection units like the Puductor 2 and BubbleFish can significantly enhance existing infection control methods while cutting down on costs related to staff-based ("spray and wipe") cleaning, static air purifiers, or HVAC retrofitting.
The Puductor 2 uses a combination of medical-grade UV-C light and ultrasonic dry mist to deactivate and eliminate Candida Auris, SARS-CoV-2, MRSA, C. diff, VRE and other pathogens with 99.9% efficacy. UV-C light uses short-wavelength ultraviolet radiation, which carries the amount of energy necessary to neutralize, or deactivate the DNA of microorganisms such as viruses, bacteria and other pathogens. And unlike other UV-C solutions, the Puductor's additional dry-mist capabilities allow hospitals to safely sanitize areas while humans are in the vicinity. Dry-mist can also reach areas UV-C light can potentially miss, and is more effective than UV-C against many types of bacteria, ensuring a more complete disinfection solution within one autonomous BoT.
The BubbleFish is a smaller, dry-mist-only unit that's compact enough to fit in tight areas like nursing and supply stations, but powerful enough to cover large areas with its mist delivery system. Both BoTs use LIDAR technology to move through the environment safely around humans and objects, and operate autonomously, without the need for human intervention save refilling dry-mist reservoirs and charging. The Puductor 2 also includes voice warnings when preparing to start disinfection, and smart UV-C shut-off when humans are detected.
Floor Cleaning
Hospital Environmental Services departments have more to contend with than rigorous disinfection efforts. They're also tasked with keeping things clean in a more ordinary way, specifically all of the high-traffic hallways and common areas of a facility. And while human janitorial and maintenance efforts are absolutely essential, they can be augmented and amplified through automation.
The CC1BoT is a wet and dry floor cleaning robot that autonomously cleans all types of hard floors and carpets on regular schedules, or ad-hoc runs when needed. It can also be operated in manual mode for fast spot cleaning. Its industrial-grade cousin is the CC3BoT, a hard-floor-cleaning robot developed specifically for large facilities. It has both wet and dry cleaning modes for scrubbing and sweeping, and is ideal for most types of hard flooring.
By incorporating autonomous floor cleaning robots into their EVS protocols, hospitals can improve sanitation, reduce staffing costs, and allow janitorial workers to focus on higher-value tasks. This type of automation is one of the easiest for a healthcare facility to incorporate, with benefits immediately apparent (in the form of squeaky clean floors).
Food Service
When you think of a hospital, you probably don't immediately think of food (unless it's "hospital food," which has its own set of connotations). But food service is actually a very large part of a hospital's daily operations, comprising everything from patient meal delivery, to staff and visitor cafeteria areas, to quick-service outside-vendor storefronts in some cases. Autonomous delivery robots, many of which were perfected in the crucible of the demanding restaurant industry, can be an ideal solution to streamline hospital food service operations. The BellaBoT is a versatile, large-capacity delivery robot ideal for many different hospital food service scenarios. The BoT can assist dietary staff in making meal deliveries and retrieving used trays, while also providing staff, patients and families with a bit of levity through an interactive "kitty" face and voice functionality. BellaBoT can also be used for delivery of non-sterile supplies and other items. The SwiftBoT takes delivery up a notch with gullwing doors for secure delivery and advanced maneuverability for crowded environments such as busy cafeterias or hospital events. And the heavy-duty HolaBoT is a very useful autonomous dish bussing solution that can help out in a variety of environments.
By automating repetitive, lower-value aspects of a food service program, hospitals can increase efficiency, dietary outcomes, and staff satisfaction, helping the 24/7 healthcare cycle run smoothly.
Nursing and Administrative Assistance
While robots could never replace the education, skill and caring of a nurse, they can certainly use their core programming to help out with certain simple tasks to make a nurse's shift easier. Autonomous secured delivery robots can be put to good use in the realms of pharmacy couriering and medication delivery as well as sterile supply running and disinfecting. The W3BoT is a secured delivery unit with the capability to integrate with elevators and secured automatic doors for lab sample, pharmacy and other deliveries. It automatically sends a text message and makes a phone call to the intended recipient with a passcode to open the compartment with their item, ensuring safe delivery to the right person. Configurable multi-section compartment means it can make several deliveries in one go. And when a hospital needs the same functionality combined with the germ-fighting power of UV-C light, the FlashBoT is the answer. Its passcode-protected chambers have optional UV-C light for disinfecting towels, stethoscopes, and other items. Augmenting nursing and administrative staff's daily workload through the use of robotic automation is a future-focused way for hospitals to make an impact on operations and staff retention in the here and now.
Visitor Concierge
While hospitals may not be considered part of the "hospitality" industry, there are parts of a hospital that serve a similar function (and let's just take a moment to appreciate the common root word). Check-in desks and guest services outposts are busy places in a hospital, fielding hundreds of patients, visitors, and questions each day. While an empathetic human touch is both necessary and ideal for some of these interactions, many basic concierge functions can be handled by hosting and wayfinding robots, increasing efficiency and giving staff time for the person-to-person care that matters most.
The KettyBoT can act as a versatile mobile receptionist and guide, sitting at the welcome desk and directing visitors via a displayed map, or physically guiding them to the desired location. This saves frontdesk staff time and ensures that the desk isn't left unmanned when visitors need to be guided to another part of the hospital.The KettyBoT can also play messages and general hospital information or guidelines on the screen, acting as a walking, talking signage board. The next-generation TemiBoT is an AI-powered hosting, guiding and interactive unit that can be highly integrated with hospital IT systems and operations. TemiBoT can guide visitors to different areas of the hospital, integrate with visitor check-in, and answer questions about the facility all in one place. The interactive display screen can also allow hospital administrators to provide live, remotely guided tours to VIPs and other guests.
Elevating the Healthcare Setting
In the face of ongoing staffing shortages and the long term fight against illness outbreaks and hospital-acquired infections, hospitals have a real opportunity to embrace novel technology for the benefit of their patients, staff, and communities. In the coming years, what may now seem like an investment in the unknown will prove to be a wise step into the future, replete with valuable returns. Are you a hospital administrator interested in improving efficiency, operations, and EVS through robotics? Get in touch with us to learn more
---
Comments(0)