Back to Blog(s)
May 3, 2023
Hint: It's Not to Take Over the World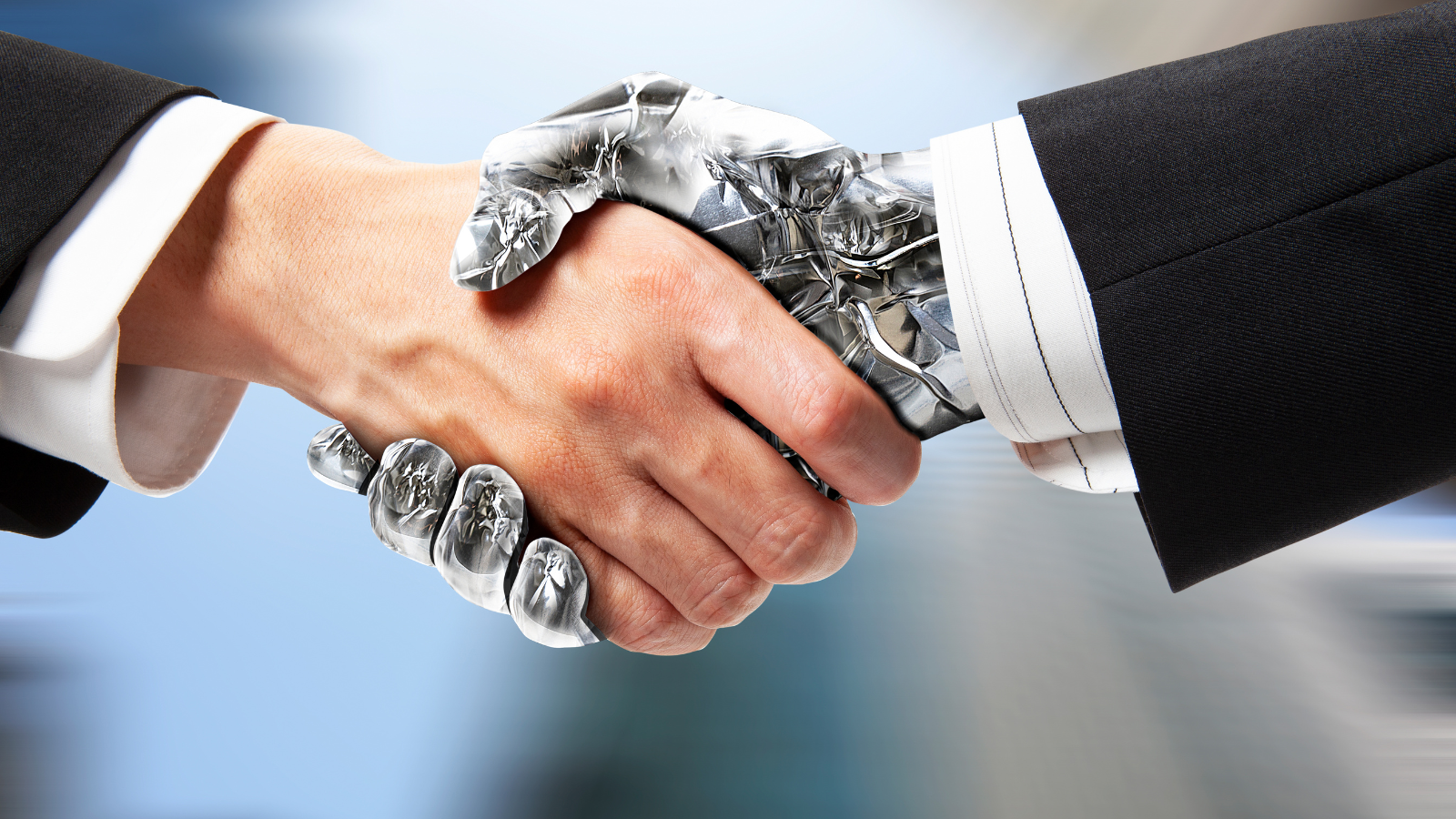 Human beings have long held mixed feelings toward new technology, and these concerns have shown up in literature and popular culture repeatedly. From Frankenstein and Jurassic Park to Blade Runner and The Matrix, the popular narrative warnings about what can happen when technology gets away from us. But the reality of robotics, especially service-oriented robotics for business, is far from the chaos depicted in fiction and film.
In fact, robots can be valuable assistants. By performing time-consuming, repetitive, or physically demanding tasks, service robots allow businesses and individuals more time to focus on critical, customer-focused, and creative work. Robots can assist organizations in most industries, and the tasks robots can perform are becoming more sophisticated, customized, and helpful every day. Let's take a look at the reality of robotic solutions for businesses and how service robots help people–not replace them.
Addressing a Labor Shortage
One of the biggest threats to businesses operating today is the shortage of interested and qualified workers. This is especially true for people-focused industries like healthcare, hospitality,schools , and restaurants. Service robots were designed to address this issue. By shifting simple, repetitive tasks to robots, staff are able to focus on higher-value, engaging work that directly affects an organization's bottom line and reduces employee stress. Customer service quality, operational standards, and retention goals are exceeded when team members feel more supported and have more time to focus on tasks that matter.
General Business Use Cases for Service Robots
Delivery and Logistics
Using autonomous robots to transport items is becoming an increasingly effective and efficient solution in many workplaces. Minimizing repetitive movement for staff reduces physical strain, encourages faster transport of materials, and reduces their workload.
Maintenance
In the autonomous robotics industry, maintenance refers to floor cleaning and disinfection. Custodial positions can be challenging to retain, and hiring costs have increased significantly with inflation. Floor maintenance is necessary for all businesses, and advanced disinfection keeps staff, customers, patients, and students healthier and better protected. Automating these tasks generates a positive ROI when using quality machines like our CC1, CC3, BubbleFish, and Puductor2.
Human Assistance
Human assistance refers to any direct interaction with a robot. Some examples are escorting guests, obtaining information, interfacing with other software for check-in, ordering, and payment processing. These tasks are meant to supplement guest concierge and information desk positions while enhancing marketing and overall customer experience.
Industry-Specific Use Cases for Service Robots
Restaurants
It's no secret that dining out isn't what it used to be, and that's largely down to staffing shortages across the service industry. Without adequate or reliable staff, customers face longer wait times, less attentive service, and sometimes, questionable cleanliness. Dissatisfied customers are the death knell of any business, but doubly so for restaurants that rely on online reviews, word of mouth, and community goodwill to stay afloat. By "hiring" one or more service robots, restaurant owners can augment and increase worker output, letting the BoTs take on repetitive tasks that slow staff down, improving efficiency, staff morale, and customer satisfaction. Autonomous robots can accomplish numerous low-value (but essential) tasks such as food running , dish bussing , and floor cleaning . They can also directly interact with customers when staffing is tight, acting as hosts and guides, or up-selling menu items and entertaining diners via integrated video and audio display functions.
Hospitals
Hospitals must run efficiently at all times to ensure excellent patient care while warding off the chaos that's always waiting in the wings. This has become more difficult in our post-Covid world, where healthcare workers are burnt out, leaving the profession in droves, or moving on to more lucrative traveling or non-clinical positions. And, with many hospital systems dropping mask mandates, there's an urgent need to ensure that facility disinfection protocols are air-tight. Forward-thinking hospitals have begun incorporating robots into their daily operations to boost sanitization, automate repetitive tasks, and free up staff time and energy for critical patient-focused duties.
While any facility where people gather together can benefit from autonomous UV-C and dry-mist disinfection robots like the Puductor 2 automated, consistent disinfection is absolutely essential for hospitals. A machine capable of removing 99.9% of pathogens from the air and surfaces—without human intervention—is truly game-changing for facilities that deal with the contagious and the compromised.
A hospital's large footprint also makes it ideal for the utilizing delivery robots. These can range from the simple- guiding visitors or delivering meals to both patient rooms and in the cafeteria- to the complex- securely ferrying medications from pharmacy to patient, safely transporting lab samples, disinfecting supplies on the go, and integrating with elevators or automatic doors. Finally, floor-cleaning robots are a natural fit anywhere with lots of foot traffic, and hospitals are no exception. The ability to shift laborious and repetitive floor cleaning tasks to autonomous robots (who never call out sick) allows janitorial and maintenance staff to focus on higher-value work while ensuring a tidy facility.
Assisted Living
Just like hospitals, assisted living facilities and nursing homes are tasked with caring for the vulnerable in a communal setting. They face a similar need to clean continuously to ensure the safety and comfort of residents and staff. They also have high delivery and meal service responsibilities day-in and day-out. Unfortunately, these settings deal with staff shortages and turnover at an alarming rate. Delivery BoTs like BellaBoT can perform repetitive meal delivery jobs both within facility dining spaces and to resident rooms, with an added bonus of resident entertainment via an interactive "kitty" face and audio functionality. Heavy-duty HolaBoT can really hustle when it comes to taking dirty dishes back to the kitchen, allowing dining room staff to spend more time with residents. And secured delivery robots like FlashBoT and SwiftBot can easily assist with secure deliveries of sensitive items such as medications, mail, and more.
Disinfection robots like Puductor 2 and Bubblefish can provide assisted living facilities with the same powerful sanitization that's so useful for hospitals, helping keep residents and staff healthy and ensuring peace of mind for families. Floor cleaning robots like CC1 can help busy janitorial and maintenance staff, allowing them to focus on the cleaning and repairs that really require specialized human focus.
Casinos
Believe it or not, casinos are a perfect environment for the integration of service robots into operations. Because they operate on a 24/7 schedule, business and customer service needs frequently outpace actual staffing availability, particularly in this economy. The multiple business units located within most casinos (food and beverage, restaurants, hotel, casino floor, etc.) offer numerous opportunities for automation and staff augmentation. The need for secure delivery of chips as well as overall facility sanitization for guest peace of mind are also places where robots can shine.
Delivery and hosting BoTs like KettyBoT and BellaBoT help food and beverage workers, preventing them from having to make repetitive trips to and from the kitchen while attending to customers in multiple dining areas. The W3 can integrate with elevators and doors, offering a fast and efficient room-service delivery option. And floor cleaning and disinfection BoTs can become an integral part of making sure a casino is clean and sanitized for patron and staff peace of mind. Looking to bundle the ultimate hospitality services together? Our newest AI-powered BoT, Temi, augments concierge and guest services staff by combining hosting and wayfinding, hotel check-in, player rewards clubs, restaurant ordering, and general information in one efficient unit.
Gyms, Health Clubs and Spas
Gyms are already full of machines. Still most of them can't deliver fresh towels, provide guided tours to prospective members, or sanitize the entire facility after-hours. Guess which machines can? You got it- robots. With autonomous robots onsite to help with delivery, wayfinding, membership sign-ups, or renewals, staff members won't have to pull double duty and can instead focus on core responsibilities. Disinfection BoTs can improve safety while sending members a powerful message—this facility cares about their health just as much as they do. Floor cleaning BoTs can eliminate the need for overnight cleaning crews or free up staff members for more important tasks.
Schools
Schools have always been ahead of the curve when it comes to technology adoption and integration, as forward-thinking educators and administrators have consistently sought new and innovative ways to teach the next generation. That was never more apparent than during the height of the pandemic when schools relied on technology to facilitate remote learning. And now, future-focused schools can look to the next wave of tech—autonomous robots—to streamline in-school operations, alleviate burdens caused by staffing shortages, and maintain a clean and healthy building environment. Disinfection robots, like the Puductor 2 and BubbleFish, can help schools maintain a healthy building environment, drastically reduce sick days, and give students, staff and parents peace of mind. Floor cleaning robots, like CC1 and CC3, can take some burdens away from dedicated janitorial and facilities staff, giving them more time to focus on deep cleaning and maintenance issues. And delivery staff assistant robots like KettyBoT, SwiftBoT and TemiBoT can augment school staff, saving them steps and time while improving overall efficiency.
Airports
Airports are a natural fit for service robots given their large footprint, high foot traffic, and frequent need for 24/7 staffing. Autonomous robots can improve airport operations and traveler experience in many ways. Given the large amount of floor space needing to be cleaned and maintained throughout the day, airports are perfectly positioned to use our industrial-grade floor cleaning robots. Our CC3 features wet and dry cleaning modes for scrubbing and sweeping on nearly every type of hard floor surface and can cover up to 20,000 square feet an hour. Our smaller, more versatile CC1 floor cleaning robot can automatically clean both hard floors and carpeted areas. Disinfection robots, like Puductor 2, can be essential in an airport's large, crowded corridors, sanitizing the environment and bringing travelers and staff peace of mind. And lost travelers can be assisted by wayfinding robots, like KettyBoT, BellaBoT and TemiBoT, or have their food delivered to their table or terminal with robot-assisted food service.
Malls
The "Dying Mall" phenomenon is on the rise, but it doesn't have to be. Shoppers who, for decades, have been lured away from the indoor shopping experience can be lured back by incorporating helpful technology. Autonomous robots are perfect for the large, extensive spaces of indoor malls, and their ability to assist shoppers imbues fun, efficiency, and service into each visit. Disinfection BoTs like Puductor 2 and BubbleFish help make malls safe places to gather again. Floor cleaning robots, like CC1 and CC3, help mall operators, cut cleaning costs while ensuring a fresh, sparkling environment for shoppers to enjoy. Concierge and wayfinding robots, like TemiBoT and KettyBoT, are the future of mall directories and guest services. Shoppers can use their escorting functions to easily navigate malls and find specific stores, restaurants, or restrooms. Robots can also increase profits for both the mall and tenant businesses. Using ther display screens and voice functions they can advertise business promotions, mall events, and outside products and services.
Offices and Workplaces
Granted, each of the businesses covered above is also a workplace. Still, traditional offices and office buildings are a great match for several autonomous robotic solutions. KettyBoT and BellaBoT are couriers par excellence, saving office workers wasted time on delivery errands and delivering products from onsite cafes or cafeterias. FlashBoT takes it up a notch with its passcode-protected secured delivery functionality that can be used to transport sensitive documents or mail. Integration with automatic doors and elevators allow deliveries through secured and multistory offices. AI-powered TemiBoT can handle an entire office's or building's visitor services and reception operations, with the ability to guide visitors to different areas of the facility, provide pre-set guided tours to visitors and new hires, and make visitor check-in a breeze. Disinfection robots, like BubbleFish and Puductor 2, help maintain a healthy working environment, while CC1 and CC3 keep floor spaces spotless so janitorial can focus on more important tasks.
Bringing It All Together - Integration Capabilities of Service Robots
The ability for autonomous service robots to work effectively with other hardware and software platforms has significantly enhanced their value in recent years. This combined with the current overhead and personnel shortages will only continue to make service robots more and more essential to most industry operations in the near future.
Integration:
Enhances the autonomy of BoTs by integrating with elevators and door
Makes it easier for staff to communicate with BoTs through other devices such as phones or smart watches
Allows for remote monitoring support possible at higher levels
Provides quantifiable data relating to BoT performance and workload
---
The future possibilities are endless as AI, developer tools and unique facility systems become more and more integrated into a tech-driven, robot-enhanced ecosystem that will enhance operational efficiency, customer experience, and health and safety for so many industries. Interested in putting your business on the path to increased revenue, cleanliness and customer satisfaction through robotics? Get in touchwith us to learn more.
---
Comments(0)